Mustang Saribung Trek is a popular and challenging trekking trail. A Saribung peak stand at 6346m is located in the Mustang region of Damodar Himal, near Damodarkunda which is a sacred lake near to the border of Tibet. This trek is newly explored which was introduced in 2006. It is one of the highest mountain passes which connects the restricted areas of Upper Mustang with Nar Phu valley. The deepest gorge, Kali Gandaki also lies here.
The Mustang Saribung trek starts from Phu ascending to Saribung pass. Then, it enters in the 'Hidden Valley' Mustang and the route ends in Jomsom. You can also start your trek from Jomsom following Upper Mustang trail. Then descending to Nar Phu valley and ending at Besisahar.
This trek will be of 20-25 days. You will pass through quiet villages, mountains, cliffs, alpines, tropical forests, desert-like landscapes, and high snowy passes. On the way, you can pass some amazing places like Chele, Kagbeni, and Geiling to reach Lo-Manthang. Lo-Manthang is the capital of the Kingdom of Mustang. You will get to see the astonishing views of  Annapurna and Dhaulagiri massif along with Himalayan peaks of Mustang Region.
You will meet the people of the different ethnic group in villages. You will get to experience the mixture of ancient Tibetan culture and tradition. You will also get to see their dress, language, and lifestyle. One can visit "Tashi Gompa" which is one of the oldest monasteries in the Himalaya. There are many tea houses where you can stay and enjoy the most common food, Daal Bhat Tarkari.
Trekkers can enjoy the picturesque view of diversity in this region.
The best time to trek, Saribung is March to May and September to November. The trekking can be demanding when the weather is harsh. Minimum two people are required to obtain the Mustang Saribung Trekking and Nar Phu valley trekking permit. One must be physically fit, should have the ability to tolerate harsh weather and high altitude experience to trek Saribung.
Saribung trek offers you the challenging trekking adventure with total satisfaction. Our concern is to provide a good service to our customers. We are always there to guide you throughout your journey.
We welcome you to explore the wondrous beauty of the Himalayas.
Overview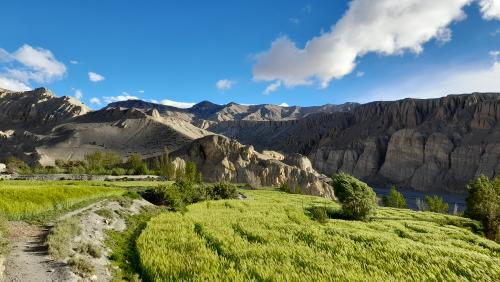 Cost Details
                            Cost Includes
- Airport to hotel pick and drop
- Two-night hotel in Kathmandu at three-star categories in BB plan
- Accommodation in Mountain lodge run by local people during a trek
- All meals during trekking
- One highly experienced mountain Guide and Porter
- Accommodation food, drinks, salary, insurance, transportation of both trek guide and Porter
- All necessary paper works and Sagarmatha National Park entry permit
TIMS Card (Trekker's Information Management System card)
- Kathmandu/ Pokhara / Kathmandu airfare or bus
                      Cost Excludes
- International airfare
- Travelers insurance
Cold drinks (Alcohol and cold drinks)
- Boiled water, Hot shower, Mineral water, Batteries charge and hot drinks (in pot)
- Lunch and dinner in Kathmandu (Approx. 10-12 USD
Map
Manual Notes:
PACKING HELP FOR TREKKING TOUR
Max. 13 kg weight for the porters/participants

Long trekking trousers, wind- and water-repellent
Functional shirt short-sleeved
Long-sleeved functional shirt
Fleece jacket or sweater
Trekking socks normal and warm
Functional underwear
Long underwear
Warm sleepwear
Clothing for the lodge
Wind and waterproof rain jacket
Down jacket (Primaloft) thin with hood
Down jacket warm with hood
Cap warm
Buff bandana / scarf
Coneflower / Cap
Gloves normal and warm
Trekking shoes ankle-high
Trekking sandals or sneakers for Teahouse

Category 4 sunglasses
headlamp
Sleeping bag
Drinking bottle, thermos bottle
trekking poles
spikes
Day pack, rain cover
packing bag
Plastic bag for documents ect.
Big bag or backpack

First Aid Kit…painkillers e.g. Ibuprofen, diarrhea and vomiting remedies, electrolytes, cold remedies, wound disinfectant, plasters, blister plasters
Sun protection face and lips with high SPF
Toilet paper
handkerchiefs
microfiber towel
ear plug
nail clippers
brush, comb
Wet cleaning wipes
hand disinfection
toothbrush, toothpaste
washing gel
face cream
lip care

power bank
Phone, charging cable, headphones
Camera, SD card, spare battery
E-reader, book, notebook, pen

passport
passport photos
cash, credit card
Document insurance for helicopter rescue and illness