Langtang Gosaikunda Trek is a marvelous trek which combines three trekking pathway as Langtang Valley Trek, Gosaikunda Trek, and Helambu Circuit Trek. Langtang Gosaikunda trekking is another famous trekking trail in the Langtang region.
It is situated north of Kathmandu Valley and close to the Tibetan border. This trek is held inside Langtang National Park. It is one of the most rewarding trekking in Nepal. This trek is the astonishing pilgrimage footstep trekking holidays.
The trek starts from a scenic drive around 8 hours from Kathmandu to Syabrubesi. Then you follow the route to Langtang valley and Kyanjin Gompa. The trek duration is 15 days. Kyanjin Gompa (3870m) is the main highlight of this trekking where trekkers will experience the holy way of performing unique spirituals rituals and rites in different ages lived monasteries. The trail takes you through high mountains, frozen lakes, glaciers, pasture land, lush alpine forests, and rhododendron forests. This trek gives you the amazing view of high mountains like Langtang Lirung (7345m), Dorje Lakpa (6696m), Ganesh Himal (7600m), and Gangchenpo (5846m).
The trail lies mostly in the Langtang National Park which is a home of Red Panda, wild dog, Himalayan black beat, Himalayan Tahr, goral and 250 species of birds. You can also see different plant species like Nepalese Alder, Oak, Chir Pine, Hemlock, and Larch. You will also head your route to Gosaikunda which is a sacred lake for both Hindus and Buddhists. Every year, during the full moon festival around August and September, they pay their homage in the sacred and Himalayan frozen lake, locally known as Janai Purnima.
It is dedicated to Lord Shiva and image is believed to be seen in the lake in a meditative mode. Thousands of pilgrims visit to bathe in its water. This area has 108 lakes. You can visit Saraswoti Kunda, Bhairav Kunda, and other small lakes. You can see the beautiful sunrise and sunset view from Khynjing Ri (4810m) and Tserko Ri (4998m). This trek also includes Lauribinayak Pass which offers a 360-degree panoramic view of green valleys, Himalayan ranges, and Tamang villages.
The Langtang region is home to different ethnic groups like Tamang, Yolmus, Sherpa, Gurung, and Bhotias. The villagers grow hardy grains and vegetables which they trade with Tibetan people in nearby Tibet. Their staple foods are wheat, maize, soya bean, potato, and millet. The villagers are mainly sheep and yak herders. The Gosaikunda trek route goes downhill Phedi, Magnegotha, Kutumsang, and Chisapani. Chisapani lies at the outer rim of Kathmandu valley which provides an amazing view of the night sky.
Then you will descend down to Sundarijal, and back to Kathmandu.
The best season to trek Langtang Gosaikunda Pass trek are autumn (September, October, and November) and spring (March, April, and May). As this season has a clear morning, one can see amazing views of the mountains. The rainfall is low and the weather doesn't get hot. You can also trek during winter (December, January, and February) but you should be prepared for the cold season.
We welcome you to the Langtang Gosaikunda Trek. Contact us for the Langtang Gosaikunda trekking information. We are available throughout the year.
Overview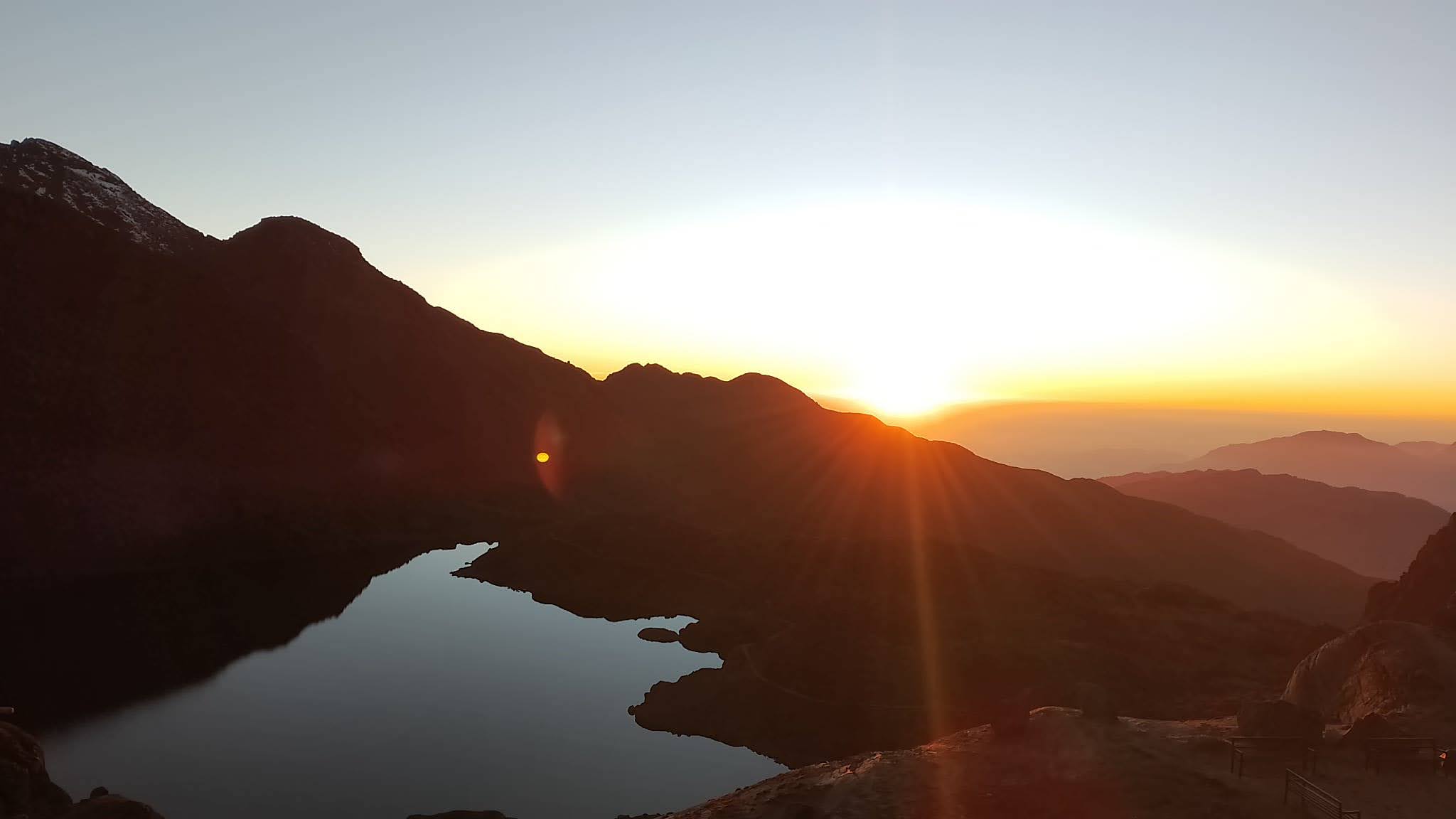 Details Itinerary
Day 01 - Drive to Syabrubesi by Jeep. (Approx. 7.00 hours drive). Overnight.
Day 02 - Trek from Syabrubesi to Lama Hotel (Approx 5 hrs). Overnight.
Day 03 - Trek from Lama Hotel to Langtang Village (Approx 5 hrs). Overnight.
Day 04 - Trek to Kyanjing Gompa and hike to Kyanjing Ri - Back and explore Kynjing village and its valley. Overnight.
Day 05 - Trek to Lama Hotel (Approx 6hrs). Overnight.
Day 06 - Trek to Syabrubesi & Drive back to Kathmandu by Jeep (Approx 6/7 hrs).
Cost Details
                            Include:
          Kathmandu Hotel including breakfast
• Local bus jeep
• 1 Hiking Guide/porter
• Necessary Trekking permit and necessary paper.
Cost does not include on:
• personal expenses, phone call, laundry service etc.
• all bar bill coke, beer, water etc.
• Tips for guide, porter and driver.
Map
Manual Notes:
                                                  PACKING HELP FOR TREKKING TOUR
                                                 Max. 15 kg weight for the porters/participants

Long trekking trousers, wind- and water-repellent, Functional shirt short-sleeved, Long-sleeved functional shirt
Fleece jacket or sweater, Trekking socks normal and warm, Functional underwear, Long underwear
Warm sleepwear, Clothing for the lodge, Wind and waterproof rain jacket, Down jacket (Primaloft) thin with hood
Down jacket warm with hood, Cap warm, Buff bandana / scarf, Coneflower / Cap
Gloves normal and warm, Trekking shoes ankle-high
Trekking sandals or sneakers for Teahouse
Category 4 sunglasses, headlamp
Sleeping bag
Drinking bottle, thermos bottle
trekking poles, spikes
Day pack, rain cover, packing bag, Plastic bag for documents ect.
Big bag or backpack
First Aid Kit…painkillers e.g. Ibuprofen, diarrhea and vomiting remedies, electrolytes, cold remedies, wound disinfectant, plasters, blister plasters
Sun protection face and lips with high SPF
Toilet paper
handkerchiefs, microfiber towel
ear plug, nail clippers, brush, comb, toothbrush, toothpaste
Wet cleaning wipes, hand disinfection, washing gel, face cream, lip care
power bank, Phone, charging cable, headphones, Camera, SD card, spare battery, E-reader, book, notebook, pen
passport, passport photos
cash, credit card
Document insurance for  illness